Our Wedding Inc team loves when we see fantastic new wedding ideas we can share with couples. For years we've witnessed Unity Candles used as part of a ceremony bonding two people and their families together.
Over the years, we've seen many variations on the candles that include some personalization to create a keepsake. We've also seen variations that make them a bit windproof for use in an outdoor wedding ceremony.
Here are 6 fun variations on Unity Ceremonies.
#1 – Handfasting Ceremony
Honestly, Handfasting Ceremonies are nothing new. They are actually an ancient Celtic ritual that may date back as far as 7000BC. 
But they're gaining in popularity in both church and non-religious wedding ceremonies as well. The binding of the couple's hands represents the coming together and can be done with fabric or cords and can be a nice touch.
#2 – Sand Ceremony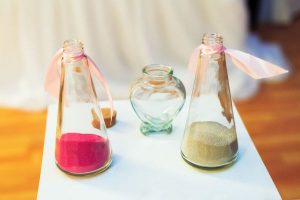 While Sand Ceremonies seem to be super popular with Florida beach weddings, we see them everywhere. You can select colored sand to go with your wedding colors. There are also lots of options for containers that can be personalized with your names and wedding dates.
Whatever you choose to do, be sure you select sand colors that contrast. The last thing you want to do is pour them together in layers and then realize the colors blend together rather than stand out as distinctive layers.
#3 – Unity Glass
Unity Glass is a fun new twist on a sand ceremony. Instead of pouring colored sand together, couples pour glass pellets together and then ship them off to the glass artisans who create a beautiful piece of art for your home.  
#4 – Unity Plant
The first time we saw this was when a couple did this for an Earth Day wedding. But planting a small tree together is a fun and unique unity symbol.
Whether you're living in an apartment or buying your first home, there are cute options to fit your lifestyle. Heck, there are plants like succulents for those of us with brown thumbs!
#5 – Wine Ceremony
You've probably seen religious wedding ceremonies where the couple share sips of wine, but this is entirely different.
Step One purchase a bottle of nice wine that you'd both enjoy. Go ahead, splurge a bit. Secondly, you'll find a decorative wooden box. You can find boxes at many local craft stores or purchase personalized boxes online. Lastly, you each want to write a very personal note about what you love about your partner at this point in your life. And seal them in envelopes.
During your wedding ceremony, place the bottle and notes in the box. Seal the box up to be opened on a milestone anniversary. Many couples choose five or ten years.
#6 – Love Locks
Love Locks are such a cute find. 
You may have been traveling and seen places where couples have attached locks to bridges or other structures. This company spins this into the realm of weddings, and they are adorable!
These locks can be purchased as part of unique art pieces ranging from Family Trees to wedding-specific sayings. The piece can be displayed during your wedding ceremony, and the two of you can tic the lock.
BTW, the locks symbolize eternal love. So, you can only lock them once – there's no key!
Whatever you choose, select something fun and personal to make your Weddings Inc wedding ceremony unique and a reflection of you!