Recently our Weddings Inc team had the pleasure of working with Kristin and Andrew to plan their intimate wedding at the beautiful Lake Mary Events Center.
Along with about thirty of their family and friends, the couple had a wonderful day filled with delicious foods and really sweet moments. Our Weddings Inc Preferred Vendors did an incredible job, and the inclusive planning package made their planning super simple.
The Lake View Rotunda
Kristin and Andrew's intimate wedding ceremony took place inside the Lake Mary Event Center's Lake View Rotunda. The beautiful room was flooded with warm sunlight with its floor-to-ceiling windows.
Their wedding package included four beautiful floral arrangements, sitting on tall white columns, two at each end of the aisle. It also included a beautiful bridal bouquet in soft pinks and white with touches of burgundy.
Kristin was escorted down the aisle by her brother, where the couple exchanged their wedding vows in front of family and friends.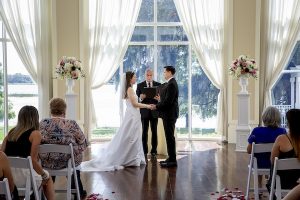 Cocktails and Wedding Portraits
Following the intimate wedding ceremony, guests enjoyed cocktails and some like bites on the terrace. At the same time, the newlyweds and family members took some time for wedding portraits.
For their cocktail hour, the couple selected Handmade Meatballs with Marinara, Mustard, and Bourbon Sauces. They also chose Boursin Stuffed Mushroom Caps and Spanakopita, a Greek pastry filled with Spinach and Feta Cheese in Filo Dough.
Dinner and Dancing
Tables in the Lake Mary Events Center ballroom were draped with beautiful deep burgundy linens. The ballroom chairs were covered in white covers and burgundy sashes to coordinate with the tablecloths. 
Each table was decorated with a floral centerpiece that matched the beautiful ceremony florals. Our Weddings Inc team also coordinated moving the ceremony flowers into the ballroom to add to the beautiful décor.
After Kristen and Andrew's first dance and several touching toasts, they and their guests enjoyed a buffet dinner.
The newlywed's selections for dinner included a Garden Salad with a choice of Ranch or Balsamic Dressing and Freshly Baked Rolls. Entrees included Maple Glazed Salmon and Panko, and Parmesan Chicken Breasts offered with a side of Lemon Sauce. The couple chose Garlic Mashed Potatoes and Southern Style Green Beans with crumbled Bacon and sautéed Onion for their side dishes.
Following dinner, Kristen and Andrew cut their three-tiered Red Velvet wedding cake. Guests enjoyed the wedding cake paired with a coffee station before taking to the dance floor to close out a fantastic evening.
Congratulations, Kristin and Andrew!
Weddings Inc Preferred Partners
Thank you to our Weddings Inc Preferred Partners, who made planning this beautiful wedding a breeze for Kristin and Andrew.
Wedding Planning and Coordination: Weddings Inc
Orlando Wedding Venue: Lake Mary Events Center
Wedding Officiant: Sensational Ceremonies
Catering: John Michael Exquisite Weddings and Catering
Linen and Rentals: John Michael Exquisite Weddings and Catering
Floral Design: Atmospheres Floral and Décor 
DJ/ MC: Junction 88 Productions
Wedding Photography: Sterling Photography International
Videography: Sugar Pop Productions
Wedding Cake: Publix