Our Weddings Inc Orlando team adored working with Nathan and Bradley on their intimate Highland Manor wedding.
Like many weddings in 2020, their recent wedding was pushed back from April of 2020, and they finally tied the knot!
The guys spent the time before their wedding ceremony together, getting ready. They chose to wear matching lavender shirts with deep purple vests. They paired them with matching ties and a nice pop of color in their yellow and orange boutonnieres. 
With This Ring
Outside under the canopy of a huge tree, their intimate wedding ceremony was set with white garden chairs. The aisle was marked with beautiful flowers in purple and orange ties with brightly colored ribbons.
Surrounded by their Honor Attendants, Nathan and Bradley exchanged their wedding vows. The ceremony was picture perfect and really touching.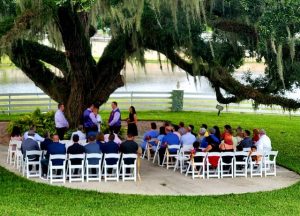 Fun Wedding Portraits
We love the fun wedding portraits the guys took! They took advantage of the pool table and the dartboard for some adorable wedding photos before heading off for a sneak peek at the reception.
All About The Cake
Nathan and Bradley were blown away by the wedding reception décor. But the one detail that captured everyone's eye was their incredible wedding cake. They couldn't resist snapping a few photos before everyone else saw it.
The wedding décor was bright and colorful, accented by uplighting and floral arrangements with floating candles.
Dance With Me
Typically, a couple's first dance is very special, and this was no exception. But, the moment when the newlyweds both brought their mothers to the dance floor was really touching.
Rainbows and Roses
As we mentioned, the couple's custom-designed wedding cake was the talk of the night. Not just family and friends but all of the event and Highland Manor staff!
The three-tiered drip wedding cake was dressed in a cascade of rainbow-colored roses. Along with the super cute cake topper, it was really adorable!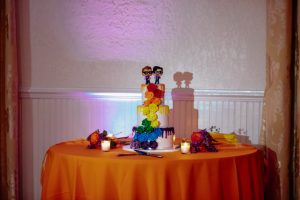 The Wedding Inc Team
In addition to Weddings Inc's planning and coordination, Nathan and Bradley's package included the following incredible wedding vendors.
Orlando wedding venue: Highland Manor
Wedding Photography: Snap Out Loud
Floral: Atmospheres Floral and Décor 
Catering: Dubsdread Catering
Wedding Cake: Tasty Too